The mango is native to eastern India and Burma. The fruit is now grown around the world in frost-free tropical and subtropical climates. There are hundreds of named cultivars with various shapes, sizes, coloring, and texture. Fruit quality is often based on the scarcity of fiber, size of pit, and taste. Oils in the mango sap, skin, and even leaves can cause dermatitis. Even if one is sensitive to this, a peeled mango or drinking its juice usually causes no harm. Mangoes are high in Vitamin C and fiber and can be eaten in many ways.
Preparation
Mango Dices
Stand the mango on your cutting board stem end down and hold. Place your knife about 1/4″ from the widest center line and cut down through the mango. Flip the mango around and repeat this cut on the other side. The resulting ovals of mango flesh are known as the "cheeks." What's left in the middle is mostly the mango seed.
Cut parallel slices into the mango flesh, being careful not to cut through the skin. Turn the mango cheek 1/4 rotation and cut another set of parallel slices to make a checkerboard pattern.
Here's where you can choose your favorite method. Either "Slice and Scoop"—scoop the mango slices out of the mango skin using a large spoon—or "Inside Out"—turn the scored mango cheek inside out by pushing the skin up from underneath, and scrape the mango chunks off of the skin with a knife or spoon.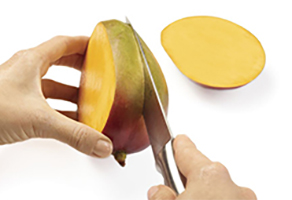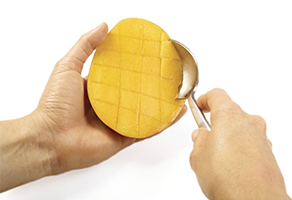 Mango Slices
Slice each side just past the seed.
Slice flesh without breaking the skin.
Scoop out slices and enjoy!
What else is in the bag?
Punalu'u Ahupua'a Farms members check here for this week's bag items.
Try out these recipes!